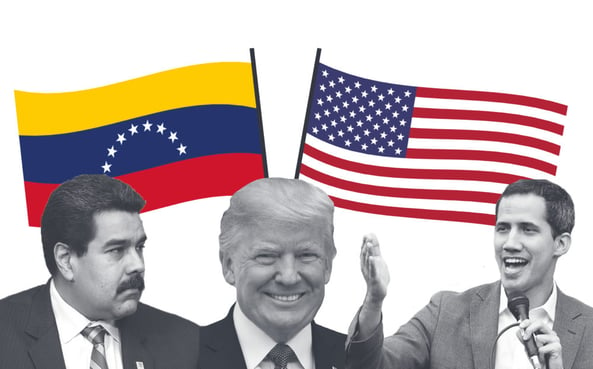 On 5 August 2019, US president Donald Trump signed an executive order which put into effect a freeze of all assets under US jurisdiction which are owned or controlled – either directly or indirectly – by the government of Venezuela.
The executive order also prohibits the trade of goods and services with or for the benefit of the Venezuelan government and its officials, or any entities controlled by it. Though media coverage referred to an economic embargo on Venezuela, the current sanctions do not include a general prohibition on trading Venezuelan goods or with Venezuela-based private entities.
This is the latest step in the recent escalation of the US government's efforts to weaken the Venezuelan regime by limiting its access to international trade and financial markets. It is also a reputational attack on president Nicolás Maduro and his government, as it adds Venezuela to a list of US-sanctioned states which includes Cuba, North Korea, Iran, and Syria.
The new sanctions are a heavy blow to the Venezuelan economy, which is mostly government-controlled and is already in shambles. The accumulated effect of these sanctions, combined with long-term political instability and challenges to the legitimacy of Maduro's government, has also taken a toll on the civilian population: over four million Venezuelans have sought refuge in neighbouring countries, mainly Brazil and Colombia.
MADURO UNDER PRESSURE
Sanctions on Venezuela were first imposed by the US in 2015. This initial round of sanctions targeted government officials in retaliation for perceived human rights abuses and the arrest of political opponents and critics by Maduro's government. In 2017 and 2018, sanctions were gradually extended to transactions relating to debt issued by the Venezuelan government and state-owned companies, on digital currency issued by the government, and on the country's gold sector.
In January 2019, Juan Guaidó, leader of the Venezuelan opposition and president of the country's national assembly, declared himself the country's interim president, contesting Maduro's legitimacy to hold office. The US and other key regional players have officially recognised Guaidó as the President of Venezuela, while countries such as Russia, China, and Turkey have vowed to defend Maduro. After recognizing Guaidó as the legitimate president, in early 2019 the US expanded the previously imposed sanctions to include Petróleos de Venezuela SA ('PDVSA'), Venezuela's state-owned oil company and historically the main source of the Venezuelan government's income.
BLEAK OUTLOOK FOR BUSINESS
This latest move is likely to exacerbate the trend towards capital flight from Venezuela, as companies and individuals seek to extract their wealth from the country. It will also increase the risks of doing business in Venezuela, as companies are more at risk of inadvertently doing business with sanctioned entities.
S-RM supports clients in better understanding the ownership structures and political exposure of the individuals they are dealing with, and in avoiding any exposure to sanctioned entities. Projects in Latin America are handled by our Rio de Janeiro-based team, where our specialised analysts help clients understand and mitigate operational, regulatory and reputational risks in the region.