Recent demonstrations triggered by George Floyd's killing during an arrest by Minneapolis police have been unparalleled in terms of their scale and global reach, writes Saif Islam.
On 25 May, George Floyd, a 46-year-old African American man, died after a white Minneapolis police officer knelt on his neck when restraining him. Floyd was being arrested for allegedly using a counterfeit bill. The following day, a video of the incident shared on mainstream and social media went viral. It subsequently inspired mass protests against police brutality and racism across the US and the world. Under the umbrella of Black Lives Matter (BLM), an anti-racism movement, tens of millions of people demonstrated in late May and throughout June, often in violation of Covid-19 restrictions on public gatherings. The significance of these demonstrations lies not only in their global reach, but also in the widespread participation by various societal actors, as well as the violence and infrastructural damage that has characterised many of the protests.
Worldwide Protest Movement
Demonstrations held in solidarity with the BLM movement occurred in more than 4,000 US cities and towns, and in over 60 countries around the world. Previously, controversial killings of African Americans – such as Trayvon Martin and Eric Garner – inspired some protests in the US and generated occasional international media attention but did not evolve into a worldwide protest movement.
There are several factors contributing to why George Floyd's death triggered a global protest movement. The viral video depicting his death over an apparently trivial crime is only one. Dissatisfaction with President Donald Trump's leadership, whose critics have long accused him of fuelling racial division and bigotry, may also have played a role. It is feasible that underlying grievances relating to the disproportionately negative effect of Covid-19 on black and Latino communities in the US also resonated with underprivileged communities worldwide. Furthermore, amid global stay-at-home orders, and media coverage largely focused on infection rates and lockdown violations, George Floyd's story likely gained exposure to a wider and more attentive audience.
Regardless of the reasons, protesters around the world used the momentum of the US protests to condemn similar abuses and lack of police accountability in their own countries. In France, for example, activists reignited calls for justice for Adama Traoré, a 24-year-old French-Malian man who died in police custody in 2016. In Jalisco, Mexico, there were demonstrations over police officers killing a man for allegedly failing to wear face mask. Australians denounced the deaths of 434 indigenous people in police custody between 1991 and 2020. In the UK, tens of thousands of people protested colonialism, slavery, and other historic injustices against people of colour.
In Minneapolis-Saint Paul alone, more than 500 shops and restaurants reported damage, the costs of which could exceed USD 500,000.
Violence, Vandalism and Looting
Protesters in the US and the UK also damaged or pulled down statues of several contentious historical figures, such as confederate generals and slave owners. Most demonstrations have been peaceful. However, there have been clashes between protesters, security forces and counter-protesters, especially in the US and, to a lesser extent, in the UK, France, and other countries. At least 22 people died in demonstrations in the US, including protesters, police officers and bystanders. Police have occasionally use excessive force against protesters, while some protesters have burned police vehicles in several cities, such as New York, Los Angeles and Atlanta, as well as a police station in Minneapolis.
More controversially, rogue elements – who may or may not have been affiliated with BLM – destroyed, damaged or looted hundreds of small businesses and buildings in dozens of cities. In Minneapolis-Saint Paul alone, more than 500 shops and restaurants reported damage, the costs of which could exceed USD 500,000. This would make the riots in Minneapolis-Saint Paul the second most destructive in US history, after the 1992 Los Angeles riots that resulted in damages worth USD 1.4 billion in today's dollars. The riots delivered a further blow to state economies emerging from Covid-19 lockdowns, hoping to revive commercial activity.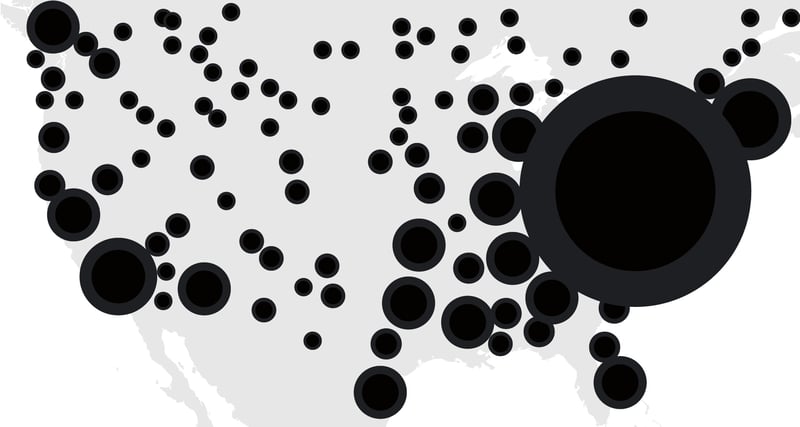 North America: A bubble map of George Floyd/BLM protests in the US between late May and early July
Involvement of Extremist Groups
Some predominantly white far-right and far-left extremist groups have exploited the protests by participating in or encouraging violence in order to promote their own agendas. Anti-fascist (Antifa) sympathisers reportedly engaged in property destruction and looting, while in France, Black Bloc anarchists clashed with police. In reality, President Trump, other senior officials, and far-right groups have likely exaggerated the involvement of far-left groups.
Far-right groups, including Boogaloo and Proud Boys – who also participated in anti-lockdown protests in April and May – have had a comparatively greater and more nuanced involvement. In most incidents, far-right counter-protesters intimidated or attacked anti-racism protesters in the US and UK. They also arrived at protests pledging to prevent vandalism and looting of property, sometimes in collaboration with the US police. There have been, however, exceptions to this. The Boogaloo movement – a loose and leaderless group that seeks the overthrow of the US government – comprises white supremacists as well as those who oppose the police or sympathise with the BLM cause. Several Boogaloo members have been arrested for successful and planned attacks against police during BLM protests. As such, the presence of armed extremists who may side with the police or sympathise with the BLM protesters' cause creates an added layer of confusion and volatility, and the potential for more violence.
Implications and Outlook
Popular support for BLM has grown considerably since late May. In the US, support for the movement jumped from 42 percent to 53 percent in June. The Democratic Party has proposed sweeping legislation in the US Congress to reform policing, while police departments are already introducing several reform measures, such as banning chokeholds. Nevertheless, BLM activists – similar to those advocating the 'Me Too' movement against sexual harassment or the 'Fridays for Future' climate protests – are under no illusion that substantive change is a long-term process and is not guaranteed. Even within the BLM movement there exist different factions comprising activists who prioritise reforming the police; defunding or redirecting funding from the police; or abolishing police departments altogether. As such, these groups will likely adopt different approaches and tactics during future demonstrations. The growing influence of the BLM movement will also be increasingly challenged by far-right extremist groups. Furthermore, after a certain threshold, many governments will likely stop acknowledging BLM activists' demands for greater political and socio-economic equality, rejecting them as too radical or impractical.
Regardless of these challenges, BLM's online campaigns, grassroots organising, political lobbying, and occasional public demonstrations will continue in the coming weeks. While the momentum behind the demonstrations has subsided, the participation of an estimated 15 to 26 million people in the US alone has made it the largest protest movement in US history. With such a large following, the movement will also be galvanising their supporters and allies with the aim of reforming policing in the US as well as influence the November 2020 general elections.