A growing dispute over gas reserves between NATO members Turkey and Greece threatens peace in the eastern Mediterranean,

writes Darren Davids

. These tensions are compounded by historical grievances and a Turkish state which is growing increasingly isolated in the region.
Tensions in the Mediterranean
Tensions escalated in August after Turkey announced plans to send a research vessel escorted by two war ships in the Mediterranean Sea between Cyprus and Greece. The ships were to map out sea territory for possible oil and gas drilling. On 12 August Greek and Turkish warships collided, which resulted in Turkish President Recep Tayyip Erdoğan warning Greece of a "heavy price" to pay if Greece continued in its perceived antagonistic behaviour. In response to the perceived Turkish agitations, Greece, France, and Cyprus announced plans to conduct joint military exercises in the area.
In the weeks that followed, Greece announced plans to bolster its military with new weapons, troops, and the development of its defence industry amid rising tensions with Turkey. Competition over oil and gas rights combined with a historical regional rivalry fuels the dangerous tensions between the two neighbouring states. These tensions and numerous other underlying geopolitical factors – including Turkey's Middle East foreign policy, as well as the maritime delimitation deal between Libya and Turkey and the overlapping maritime delimitation deal between Egypt and Greece – have largely complicated exploration and extraction of oil and gas reserves in the eastern Mediterranean. Several other countries are vying for exploration in the region and the two NATO allies have raised concerns of clashes in the Mediterranean amidst their war of words.
The dispute explained
Turkey and Greece have competing claims over territory in the maritime space in the eastern Mediterranean, and most importantly, the gas below. Turkey's coastline is beset with archipelagic Greek islands, which Greece claims grants them territorial and drilling rights. Greece claims that these islands generate exclusive economic zones (EEZs) around them. However, Turkey argues that the eastern islands rest on Turkey's continental shelf and counters that they do not generate Greek EEZs. The conflict is further complicated by Turkey's refusal to sign the UN Convention on the Law of the Sea – the international organisation that usually handles maritime disputes – likely because it supports Greece's case.
Turkey has shown a willingness to act unilaterally in pursuit of its foreign policy aim, even at the cost of upsetting its allies.

A related dispute concerns the divided island of Cyprus, and the breakaway republic in the northern region of Cyprus. Turkey, the only country to recognise Northern Cyprus as a separate state, sees itself as the protector of the Turkish speaking northern region, which it invaded following a Greek-backed coup in 1974. Turkey insists that Cypriot exploration in the region should take Northern Cyprus into account. Separately, Turkey wants economic rights to waters Cyprus sees as its own. To assert this claim Turkey has, on several occasions between July and early September, sent exploration ships with naval escorts into contested Cypriot waters to begin geological surveys to search for oil and gas. However, the Republic of Cyprus, which is internationally recognised and a member of the European Union (EU), officially has sovereignty over the island and the surrounding waters.
An isolated Turkey
The discovery of gas and the subsequent plans to develop the gas resources has resulted in some unlikely alliances. In January 2020, Egypt, Israel, the Palestinian Authority, Jordan, Greece, Cyprus and Italy came together to form EastMed Gas Forum, with France also later asking to join, while the US has requested to become a permanent observer. The consortium of states plans to build a pipeline to export the approximately 70 trillion cubic feet of gas from Egypt to Europe – except the proposed pipeline cuts through Turkey's maritime claims. Formalising the regional organisation protects the interests of its member states and underscores the growing commercial integration between them based on gas exports. The organisation has isolated Turkey, mainly due to its tensions with many of the forum's members, such as Greece, Egypt and France. Thus, Turkey finds itself at odds with an entire regional bloc.
Turkey has shown a willingness to act unilaterally in pursuit of its foreign policy aims, even at the cost of upsetting its allies. Turkish ships have been exploring for natural gas off the Cypriot coast for several months despite several warnings from Greece and the EU. Yavuz, a Turkish drillship, is one of three Turkish ships that have explored the contested waters in the last 12 months. Turkey's move to drill in the disputed waters underscores its increasingly assertive and antagonistic foreign policy which has exacerbated tensions over the last few years. In recent years, Turkey's president, Recep Tayyip Erdoğan, has purchased a Russian air defence system that allies fear would compromise the national security of NATO members, intervened militarily in Syria and Libya and blocked members of the NATO's eastern flank from acquiring updated defence systems.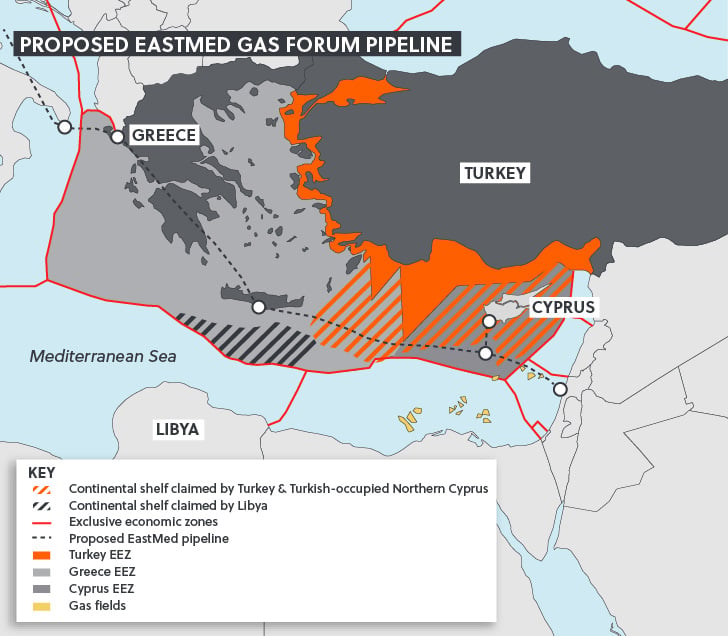 Outlook
Although war between the two neighbours remains unlikely, the security environment is likely to remain volatile, in the medium-term outlook. Both countries have held naval and air exercises in the region, with ships coming within mere meters from one another, increasing the risk of miscalculation by either side. Furthermore, Turkey has previously shown a willingness to intimidate drill ships belonging to international oil companies. Nonetheless, since September Turkey indicated that it is open to talks with Greece but insists that it is only willing to negotiate if the process is based on a constructive and fair approach. Erdoğan's change of tone likely comes amid increasing calls for sanctions against Turkey.
Currently there is no consensus on placing sanctions on Turkey and the EU remains split. Germany, who currently holds the EU presidency, and several other European countries do not want to antagonise Turkey, who remains an important partner for the EU on trade and migration. Germany, along with the so-called Visegrad group of Poland, Hungary, the Czech Republic and Slovakia fear that Turkey could respond to sanctions by allowing migrants to cross its border and stretch Europe's ability to deal with the large migrant influx. However, the EU's track record with sanctions is likely to provide additional incentive to Erdoğan to take negotiations with Greece seriously and work towards a sustainable solution to the Eastern Mediterranean dispute in coming months.