Amid Russia's ongoing military offensive in Ukraine, security incidents in Transnistria – the Russia-backed breakaway region located between Moldova and Ukraine – have made headlines. Such developments are unlikely to impact the Ukrainian conflict, but remain a source of concern for Moldova, writes Richard Gardiner.
---
If global audiences previously paid little attention to Transnistria's place in Eastern Europe's geopolitical chessboard, the conflict in Ukraine has begun to change this. Since April, there have been a series of bombings across the de facto independent republic universally recognised as part of Moldova. Transnistrian authorities and their Russian allies have blamed Ukraine for the explosions, while Kyiv has accused Russia of staging false flag attacks to draw Transnistria into the Ukrainian conflict. There is little evidence to suggest that Russian and Transnistrian forces are about to establish a new frontline in western Ukraine, although Moldova has more reasons to be wary.
A NEW FRONT IN THE UKRAINIAN CONFLICT?
As Russia fails to make significant territorial gains in Ukraine, the Kremlin's rhetoric vis-à-vis its regional objectives in Eastern Europe has escalated. Russia's narrative regarding Transnistria is similar to that employed during the build-up to the invasion of Ukraine, with officials accusing the Moldovan government of undermining Russian language speakers in Transnistria. Some officials, including Russian military commanders, have said that one of Moscow's goals in Ukraine is to create a land corridor from Russia-controlled territory in Eastern Ukraine to Transnistria. However, how Transnistria will fit into the Ukrainian conflict, if at all, remains uncertain.
Transnistria's most obvious point of entry would be to support a Russian offensive in south western Ukraine, towards the port city of Odesa, located 100 km east of Transnistria's capital, Tiraspol. There have been multiple airstrikes on Odesa in recent weeks. Russia could also use the airfield in Tiraspol, for its planes to land additional troops and supplies. However, Russian ground forces have faced setbacks in southern Ukraine, and are now shifting their focus to the east of the country (more than 600 km east of Tiraspol), reducing the likelihood of Transnistria based forces attacking western Ukraine. Such involvement would also make little strategic sense; only 1,000-1,500 Russian peacekeeping troops are stationed in the territory, while the Transnistrian army comprises around 7,000-8,000 part-time troops, many of whom are poorly trained and ill-equipped.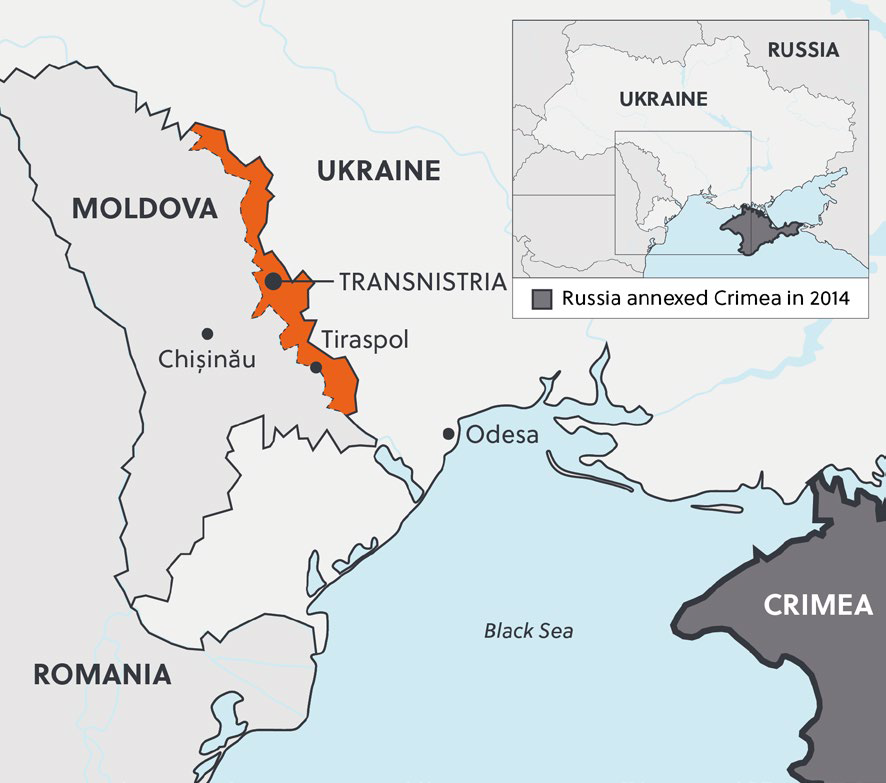 THE MOLDOVAN CONUNDRUM
Even though Transnistria is not involved in the Ukrainian conflict, the explosions and associated accusations are ringing alarm bells in Moldova. Moldovan officials have long been concerned about Russian military aggression in the region, and the invasion of Ukraine has heightened these fears. There are concerns that Russia could seek to forcibly deter Moldova's political support for the Ukrainian government, undermine its increasing pro-Western foreign policy orientation, and restore the waning influence of pro-Russian political parties in the country.
"Even though Transnistria is not involved in the Ukrainian conflict, the explosions and associated accusations are ringing alarm bells in Moldova."
However, a military attack on Moldova seems improbable, not least due to Russia's ongoing struggles in Ukraine. There is also no sign of Transnistrian forces trying to escalate tensions along the border with Moldova. Although Transnistrian authorities have echoed Moscow's claims of blaming Ukraine for the recent explosions in Transnistria, they have remained relatively silent on the Russian invasion. Transnistria may be economically reliant on Russia and receives free gas from its patron, but it has also benefited from a free trade agreement between Moldova and Europe, with 70 percent of its exports now going to the EU. Its leaders likely realise that any military escalation against Moldova would have a negative impact on the territory's fledgling economy.
RUSSIA'S PRESSURE TACTICS
Although Russia's strategic focus is currently fixated on Ukraine, Moldova remains on its radar. Even before the war in Ukraine, Russia started to flex its muscles in Moldova, including in November 2021, when Gazprom, Russia's state-owned energy corporation, threatened to cut gas supplies to Moldova following tariff hikes the previous month. This was designed to destabilise Moldova economically, in response to Chișinău's growing ties with the EU. Such destabilising tactics, will likely continue to play a role in Russia's approach to Moldova in the coming months. This could also include disinformation and propaganda campaigns, cyberattacks, and bolstered support for pro-Russian parties. Moldova's energy supply will also remain vulnerable, as it relies on Transnistria for 80 percent of its electricity.
As the Russian offensive in Ukraine progresses, the conflict, as well as Russia's desire to create a pro-Russian buffer zone between it and NATO, threatens to draw in more countries in the region. Viewed in this light, Ukrainian President Volodymyr Zelenskyy's warning about Putin's ambition to extend Russian influence beyond Ukraine appears to ring true.