With gun crime and associated fatalities at a record high in Sweden in 2022, Tamsin Hunt investigates the trends, targets and manifestations of gun violence in the country.
---
Shootings in Sweden are becoming increasingly common, and deadlier. With 62 fatal shootings in 2022, Sweden has one of the highest rates of gun deaths per capita in the European Union, second only to Croatia, and six times higher than their neighbours Denmark, Finland and Norway combined. Eight in ten shootings are linked to organised crime, and despite some of the strongest gun laws in Europe – and the world – Sweden appears unable to control the violence, nor the criminal gangs that drive it.
Fatalities linked to gun violence in Sweden

(2017-2022)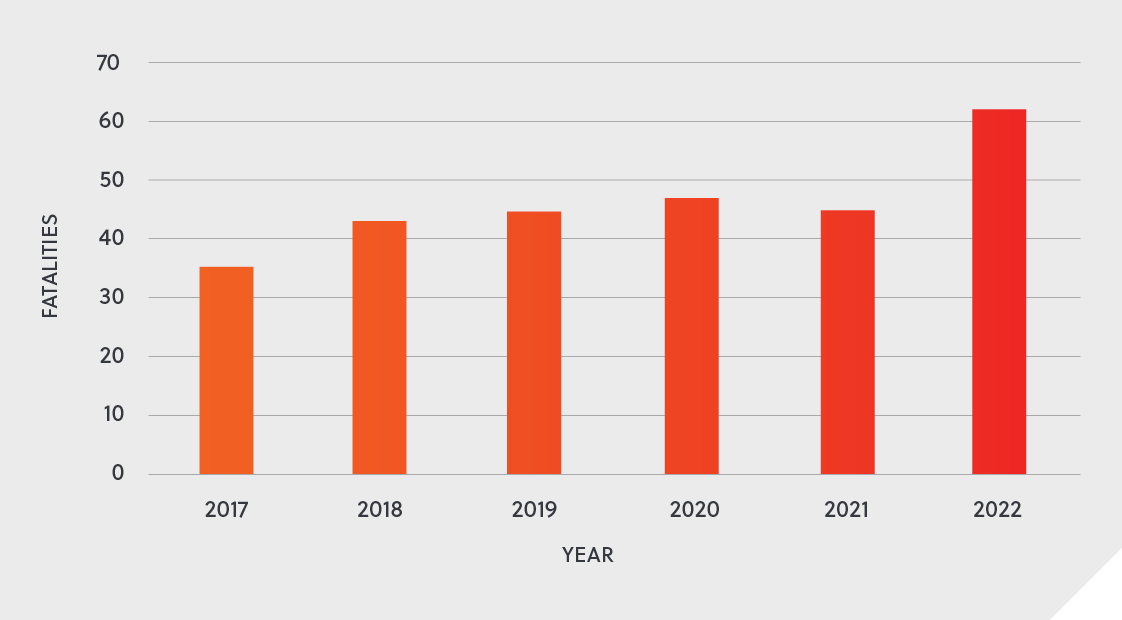 Source: The Swedish Police Authority
Why Sweden?
Dozens of gangs and powerful organised criminal networks have found a home in Sweden for several reasons. Firstly, Sweden, which has historically accepted large numbers of refugees and took in more people per capita during the 2015 migration crisis than any other EU country, has never found a way to effectively integrate these communities into society. As a result, migrant populations are primarily concentrated in specific, and often poorer, neighbourhoods. Organised criminal networks found an easy foothold in these communities, and now wield substantial power. Secondly, gangs often exploit a handy loophole in Swedish legislation on violent crime in which perpetrators younger than 15 years old cannot face criminal sentencing, and those between 15 and 18 are rarely sentenced to more than four years. So much so, that in the Botkyrka municipality near Stockholm, publicly-funded youth centres have become the operational bases and de facto recruitment centres for criminal gangs. Additionally, gangs have infiltrated political parties, largely at a local government level. In Botkyrka, gangs maintain such influence that they allegedly engineered the deposition of then-Mayor Ebba Östlin through a vote of no confidence in January 2023, just months after she announced a decision to close the youth centres. Meanwhile, police have uncovered criminal linkages in the Södertälje local government and economy as far back as 2011.
Swedish gangs in profile
Location
Previously, gang operations were largely based in Sweden's three largest cities, Stockholm, Gothenburg and Malmö; but recently, the violence has started to spread. In 2022, more than 50 percent of shootings occurred outside of these three cities, compared to roughly 35 percent in previous years. Police have identified 61 areas as being vulnerable to criminal activity, all of which are occupied by predominantly migrant communities.
_
Perpetrators
Gang members are extremely young, with three quarters estimated to be under the age of 21, and some as young as 13 or 14.
_
Targets
Most violence relates to turf wars between gangs, or disputes around loans or protection rackets. However, bystanders are frequently caught in the crossfire, as shootings often take place in residential neighbourhoods.
_
Weaponry
Hundreds of weapons, including automatic and semi-automatic guns, grenades and explosives are smuggled into Sweden daily, mostly from the Western Balkans. Some guns are dismantled into a dozen or more pieces and simply posted through the mail. Additionally, makeshift weapons and explosives are common, such as starter pistols smuggled from neighbouring countries that are converted into lethal weapons.
Combatting crime
In a bid to resolve the crisis, the national government will increase spending on the criminal justice system by almost SEK 5 billion (approximately USD 500 million) between 2023 and 2025, and aims to increase the police force by 10,000 officers by 2024. Moreover, modelled on Denmark's policies on organised crime, the government proposes to implement stop-and-search zones in vulnerable areas, and to allow anonymous witness testimony in court to combat intimidation and reprisals against witnesses.
"Gang members are extremely young, with three quarters estimated to be under the age of 21, and some as young as 13 or 14."
However, progress will be slow while police training adapts to the problem, and policy reforms remain in the proposal stage. Additionally, authorities may find criminal gangs increasingly difficult to eradicate as they expand their political influence and become embedded in political and economic structures in society. For the interim at least, gun violence and organised criminal activity will continue to thrive among the marginalised communities in Sweden.