Since the 24 February Russian invasion of Ukraine, over 10 million people have been displaced by the conflict. Military, humanitarian, and financial assistance have flooded the country, but with crises mounting elsewhere, Natasha Glazer and Tamsin Hunt investigate the potential realities for increased global competition for aid.
All eyes on Ukraine
Sustained fighting in Ukraine since Russia's February 2022 invasion has resulted in almost 8 million refugees in Europe, with millions more being displaced internally, facing acute food and water shortages. In response, the US, European Union (EU) and international institutions have rapidly raised and diverted substantial military, humanitarian, and financial aid to Ukraine. In just six weeks, Ukraine's Flash Appeal for funding was 74 percent fulfilled. The scale and speed with which western countries were able to respond to the conflict has been inspiring. But, while the rally has demonstrated the ability for an international response to a crisis to be effective and timely, it has brought with it new realities regarding the state of aid and its ability to address the consequences of war.
Ukraine aid levels come in stark contrast to other international conflict appeals. Current estimates for appeals in Afghanistan, Yemen and Sudan stand at 54.9, 54, and 42 percent respectively, while Somalia – a country facing a Grade 3 Health Emergency, the highest level of emergency issued by the World Health Organisation – remains 55.1 percent funded eight months after its first appeal for aid. These figures present an emerging challenge regarding the availability of finite funding and the increased need to triage conflict responses across the world.
Current funding estimates for Humanitarian Response Plan

2022 per country
Ukraine
74%


Funded

Yemen
54%


Funded

Ethiopia
47%


Funded

Myanmar


27.9%

Funded
Enough to go around?
The United Nations and its partners have estimated that over USD 51.5 billion in humanitarian aid will be required for 2023; this marks a 25 percent increase on 2022 amid estimates that an additional 65 million people will need aid this year. That brings the total number of people in need close to 340 million across 68 crisis-affected countries. Among these, conflict-affected countries such as Afghanistan, the Democratic Republic of Congo (DRC), Ethiopia, Nigeria, Somalia, Sudan, South Sudan, Syria, Ukraine and Yemen each require over USD 1 billion in support.
Yet, while the demand is growing, supply remains a challenge. 2022 marked the UN's largest deficiency in fund raising, securing only 53 percent of its required funds. Humanitarian funding is voluntary and is often dependent on the financial standing of the donor countries or institutions themselves. In the wake of the Covid-19 pandemic, the fallout from the Ukraine conflict and ongoing global economic headwinds, many governments have had to re-evaluate their aid budgets. As a result, we have seen a repositioning towards aid funding with countries either diverting or indeed decreasing the amount they allocate to donor assistance across the globe. Countries such as Sweden, Denmark and Norway have diverted 14, 10 and four percent of their aid budgets respectively towards Ukraine, while major economies such as China continue to give less than USD 10 million per annum directly to UN aid initiatives.
The local crisis and number of people in need of aid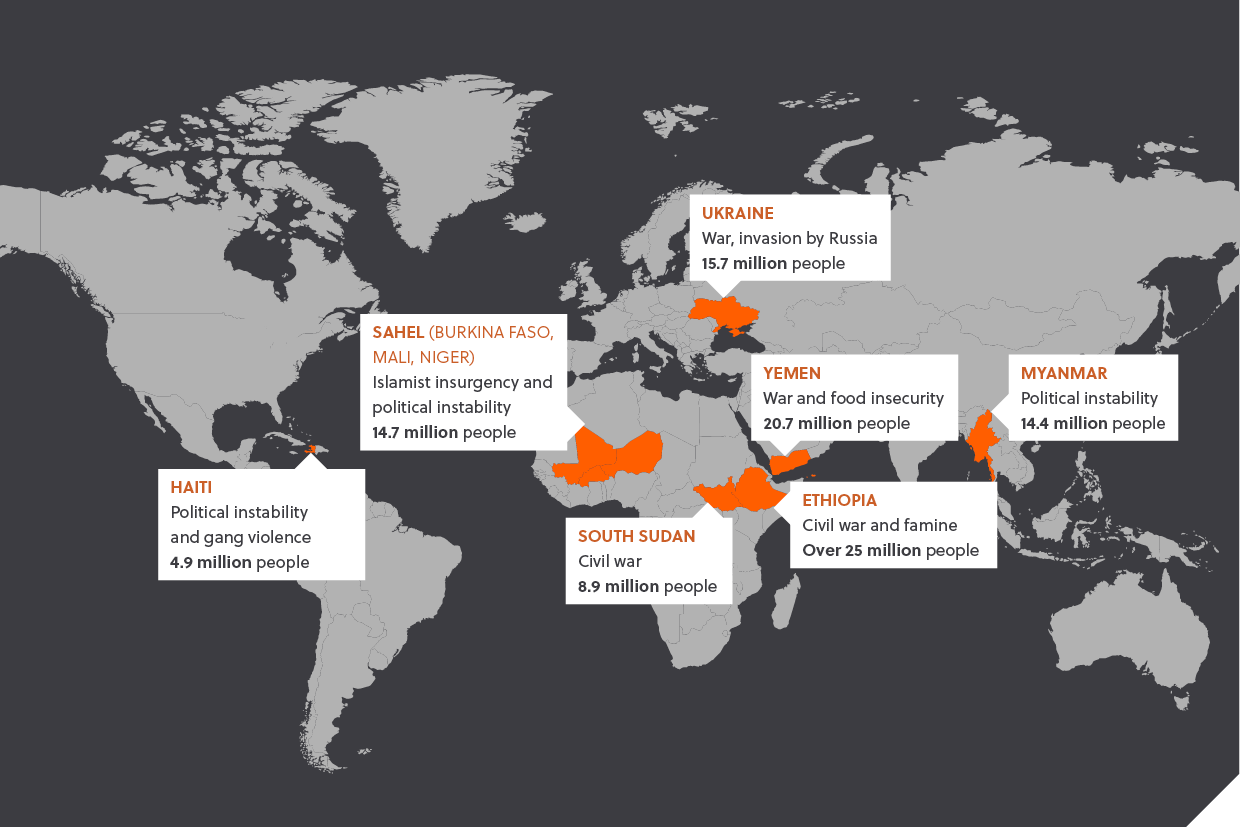 Source: Financial Tracking Services, United Nations Office for the Coordination of Humanitarian Affairs
Conflict vulnerability and tough times ahead
With food insecurity a key driver of localised conflict, social unrest and cross-border migration, increased competition for aid is likely to introduce additional pressures for conflict-affected or conflict-vulnerable countries. This will prompt renewed or intensified intrastate violence in 2023 beyond the anticipated continuation of geopolitical tensions.
In Africa, impoverished regions such as the Sahel are likely to continue to face insurgency risks. The humanitarian situation in Mali in particular continues to deteriorate, with fighting between rival Islamist groups as well as pastoralist farmers and nomadic herder communities over land and access to water increasing the complexity of the conflict. Fighting has also intensified in eastern DRC with the resurgence of the Mouvement du 23 mars (M23) within 2022 leading to the displacement of 262,000 people in the east of the country. Meanwhile, the peace deal in Ethiopia's Tigray region will be increasingly fragile amid mounting tensions in the Oromia region and rising humanitarian needs – with 11.9 million at risk of famine in the country. Elsewhere, the unresolved conflict in Yemen has the potential to reignite with 70 percent of the population in need of humanitarian assistance. The civil war between the internationally recognised government and Houthi militant groups has been ongoing since September 2014, and apart from a brief six-month respite in 2022 due to a ceasefire agreement, the violence continues. As a result, hundreds of thousands have been killed and millions displaced and impoverished with little sign of recovery in the coming year. While conflict has thus far been avoided in Lebanon despite worsening political and socio-economic collapse, tensions are mounting even though the world can ill-afford another crisis. And, across in Asia, the longstanding localised conflicts between Myanmar's armed forces (the Tatmadaw) and various insurgent groups, including militias and ethnic armed organisations, continue unabated. The degree of violence against civilians by state forces has been particularly severe.
Of course, these civil conflicts only add to current woes concerning interstate hostilities across the globe, with the war in Ukraine forecast to continue, tensions mounting in the South China Sea and the divide between the West and the rest widening.
All indicators point to 2023 being a conflict intense year. Humanitarian organisations will have their work cut out for them, not least protecting the vulnerable, keeping their own people safe, but also fighting to get their fair share of funding. Meanwhile, governments will need to balance their international and domestic commitments while placating electorates likely to be facing growing cost of living concerns of their own. And, at the other end of the equation will be the 340 million vulnerable people desperately waiting for a helping hand.