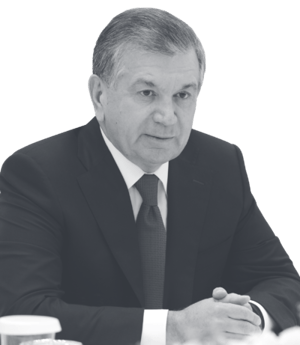 Since assuming the presidency in 2016, Mirziyoyev has floated the Uzbek currency, instituted sweeping changes to the country's taxation system and introduced reforms to improve the transparency of government and promote civil society in Uzbekistan. Having pledged to privatise and restructure state-owned energy company Uzbekneftegaz by 2024, Mirziyoyev also announced this month that his government plans to invite at least six foreign oil servicing companies to partner with Uzbekneftegaz to help it achieve a significant uptick in oil and gas production over the next four years.
While Mirziyoyev's broader economic and governance reforms have won praise from the IMF, among others, there are signs that the country's reforming oil sector is also piquing the interest of foreign firms seeking to participate in what could be Central Asia's next oil boom—potentially mirroring the likes of Kazakhstan and Azerbaijan in the early 2000s.
Below we examine three factors that foreign investors will need to consider if they are looking to enter Uzbekistan's lucrative oil and gas sector.
1. SINCERITY OF MIRZIYOYEV'S REFORMS
Mirziyoyev has been in a hurry to introduce high-profile and visible reforms since taking over from his late predecessor Islam Karimov, whose presidency was characterised by economic and political isolationism. Although Mirziyoyev served as Uzbekistan's prime minister in Karimov's government, in the months after his appointment to the presidency, Mirziyoyev removed former Karimov allies from key government posts, dismissed the heads of Uzbekistan's influential security apparatus and released political opponents of Karimov's regime. But despite winning widespread praise from the international community for his progressive agenda, investors from the West have thus far only embraced Mirziyoyev's reforms with cautious optimism.
For Mirziyoyev, the key to balancing his plans to win foreign investment with maintaining his grip on the presidency rests on the scale and pace at which new reforms are introduced, while also ensuring that his reforms provide tangible and visible benefits to Uzbekistan's population. Concerning the oil and gas sector in particular, Mirziyoyev will ensure the government maintains majority control of Uzbekneftegaz and the country's energy deposits, while luring IOCs, oil servicing firms and other foreign companies operating in the sector by guaranteeing that they can operate in a free market without interference from government. As the government restructures Uzbekneftegaz over the next five years, this approach will result in a series of joint-venture projects between foreign companies that provide equipment and international know-how, and Uzbek state-owned entities that have maintained historical control over the country's oil and gas assets.
2. COMPETITION FROM EXISTING FOREIGN PLAYERS
Foreign oil servicing firms looking to enter Uzbekistan's energy sector will need to work alongside established international players from Russia and Central Asia who have enjoyed a longstanding presence in Uzbekistan. Russia's LUKOIL, for example, is tipped to produce at least 30 percent of Uzbekistan's natural gas over the next decade, and Gazprom subsidiaries are already working with Uzbekneftegaz to commence production at a large-scale natural gas block in the east of the country. In May, BP and Azerbaijan's state-owned oil company SOCAR also signed an exploration agreement with Uzbekneftegaz to conduct geological studies of the Ustyurt region of Uzbekistan.
While Mirziyoyev is making efforts to encourage investment from beyond the former Soviet Union, Russian president Vladimir Putin still considers Uzbekistan very much in Russia's sphere of influence. It's no surprise, therefore, that the Russian oil majors and servicing firms, many of which are subject to European and US sectoral sanctions, have been quick to partner with Uzbekneftegaz to take a share in the country's vast and mostly untapped oil and gas reserves.
3. CONFLICT OF INTEREST BETWEEN THE PUBLIC AND PRIVATE SECTORS
The misuse of public funds by corrupt government officials is a persistent challenge threatening investment in Uzbekistan, despite determined efforts by Mirziyoyev to address conflicts of interest between the public and private sectors. To highlight this ongoing challenge, the 2018 Transparency International Corruption Perceptions Index ranked Uzbekistan 158th out of 180 countries because of the large-scale and well-documented misuse of public funds by state officials. Contributing to perceptions that Uzbekistan has a problem is the recent surge in newly-formed limited liability companies with reported concealed links to Uzbek government officials. By avoiding scrutiny from weak government regulators, private companies in Uzbekistan are able to launder the proceeds of government contracts through corporate structures based in low disclosure jurisdictions. The most recent and high-profile example of this involves Tashkent mayor Jahongir Artikhodja and the $1.3 billion state-backed luxury housing development known as Tashkent City. An investigation by international media group openDemoncracy found that Artikhodja, who openly supports Mirziyoyev's reform agenda, allegedly approved public contracts for the construction of the Tashkent City project to companies that he secretly controlled via a web of offshore companies.
Shortfalls in Uzbekistan's regulatory and law enforcement agencies in responding to conflict of interest cases remain a key barrier for the Mirziyoyev government to adequately address corruption. Although there are now checks and regulations relating to public officials working with the private sector, a report by the OECD in 2019 concluded that new legislation and specifically sanctions against corrupt officials will be needed to prompt a broader behavioural change.
Uzbekistan's energy sector is not immune to the dynamics of the country's evolving approach to conflicts of interest between the government and private enterprise. The restructuring of Uzbekneftegaz into three separate entities to produce oil and gas and run refineries, operate pipelines, and distribute gas was announced to give assurance to foreign investors that the government is committed to addressing conflicts of interest and potential corruption issues. There is a chance, however, that the restructure may have the opposite effect by unintentionally increasing the opacity of government contracts and reducing checks and balances on the company, while simultaneously centralising control of all three entities under the remit of the Ministry of Energy. In neighbouring Kazakhstan, despite genuine efforts to attract foreign investment by restructuring the state-owned energy company KazMunayGas, an international investigation in 2018 found that the company was still de facto controlled by a small number of individuals close to the former Kazakh president. Mirziyoyev's anti-corruption drive is undoubtedly a step in the right direction, but examples from other countries in Central Asia highlight the need for foreign companies entering Uzbekistan to identify where the lines between public and private enterprise blur in the country's oil and gas sector.
---
CONCLUSION
While there are numerous signs that efforts to attract investors are succeeding, IOCs, and any foreign companies considering investing, will need to pay careful attention to the transitioning dynamics of Uzbekistan's reform programme if they are to successfully navigate an entry into the country. Foreign oil servicing firms looking to expand into Uzbekistan will need to conduct comprehensive due diligence on future partners and local counterparties to understand their potential exposure to sanctions, their ultimate beneficial ownership, and their political links in Russia and Uzbekistan.
S-RM's Deal Advisory practice advises on market entry globally and is highly experienced at answering unique intelligence requirements in frontier markets. This briefing was produced by S-RM's team of Central Asia and Caspian specialists, with in-house Russian language expertise and decades of combined experience analysing political developments and conducting complex intelligence investigations in Central Asia and the Caspian, especially in the oil and gas sector.