Facing declining popular support, embattled President Jair Bolsonaro's controversial policies and continued efforts to undermine democratic processes will drive unrest in the coming months ahead of the 2022 elections, writes Erin Drake.
Bolsonaro's time in office has been characterised by growing political polarisation among voters due to his controversial policies and responses to issues such as indigenous rights, environmental welfare and the Covid-19 pandemic. This has increased anti-government sentiment and driven protests calling for his impeachment. Bolsonaro's supporters and allies – comprising his senior ministers, conservatives and much of the industrial and agricultural business community –have rallied against this, calling on the president to initiate a military intervention to shut down Brazil's democratic institutions, prompting fears of a self-coup ahead of the 2022 elections. Although such political violence is unlikely, as the military have already indicated that it would not support the move, ongoing political instability and Bolsonaro's attempts to fortify his power will drive an escalation in civil unrest in the coming months.

DECLINING POPULARITY
The president has – with the exception of his first four months in office – seen a steady decline in his popularity. This decline began when, following an election campaign centred on anti-corruption, anticipated reforms failed to materialise after federal prosecutors filed money-laundering charges against his son. Bolsonaro's far-right rhetoric, including his praise of the former military dictatorship and his stance on issues such as LGBT rights and the environment, have alienated many. His denial of the pandemic as a "media trick" and his subsequent muted response to over 600,000 fatalities have further raised the public's ire. Bolsonaro has also threatened to intervene in the Supreme Court's proceedings and has since engaged in an ongoing dispute with the institution and its justices.
Anti-government protesters now regularly include far-left, centrist and far-right groups, students and educators, feminist and LGBT collectives, vaccine activists and other movements and communities that Bolsonaro's actions and policies have angered. Notably, indigenous groups escalated their protest activity during Bolsonaro's tenure due to the president's aggressive promotion of pro-business policies that have threatened their livelihoods, land, and the environment. Even some of Bolsonaro'sformer allies have turned on him; far-right group Movimento Brasil Livre, staged a protest in São Paulo on 12 September calling for his impeachment and demanding greater access to Covid-19 vaccines. More than 100 requests have been filed with the Chamber of Deputies to impeach Bolsonaro. In June 2021, this included a request filed by left and right-wing politicians, although the chamber's pro-government leader has refused to follow up on them.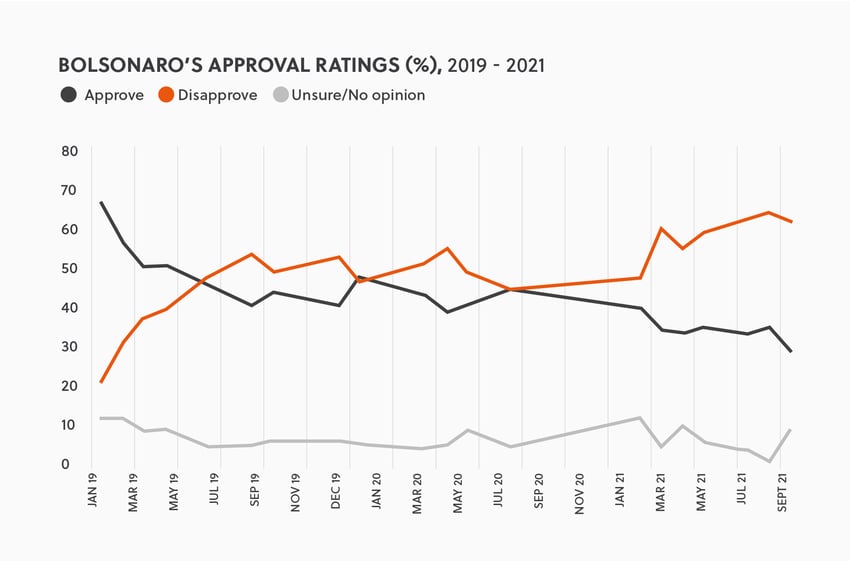 DEMONSTRATIONS WILL ESCALATE AHEAD OF ELECTIONS
Anti-Bolsonaro protests have taken place across Brazil; they have also become larger and more frequent in recent months. Most large protests occur in Brasilia and São Paulo, where tens of thousands of people march along main avenues and protest outside Congress and other government buildings. While demonstrations are generally peaceful, security forces have occasionally arrested protesters and forcibly dispersed crowds with tear gas and, in isolated incidents, rubber-tipped rounds. Other demonstrations involve large caravan convoys, which travel from several states to the capital, causing major blockades along the way. Protests will likely become more regular and draw greater participation in the months ahead of the elections, spiking in response to further efforts by Bolsonaro to delegitimise the electoral system or undermine the Supreme Court. This could prompt Bolsonaro to order a more severe security crackdown.
BOLSONARO'S POWER PLAYS
Amid declining popularity, Bolsonaro has made efforts to project strength and create a more favourable election landscape for himself.
Accused of intimidating lawmakers by leading a military parade through Brasília during a vote on electoral reform, after claiming that the current system enables fraud.
Threatened to replace members of the Supreme Court over investigating his family's suspected involvement in disinformation campaigns and corruption.
Petitioned the Senate to remove a Supreme Court Justice selected to oversee the 2022 general elections.
Submitted a 'Fake News' bill to Congress that could protect his supporters' tactics of disinformation and smear campaigns against his rivals, prevalent in the 2018 elections.
Intensified efforts to strengthen his support base – particularly the logging, agribusiness and mining sectors – by pushing legislation aimed at enabling further deforestation in the Amazon.
Supported court rulings delegitimising indigenous communities' claims to land, which he seeks to offer for commercial use
Bolsonaro will also continue to counter the movement against him by inciting his own supporters to protest. Some pro-Bolsonaro unions have acted unilaterally to hold strikes and demonstrations. In early-September, pro-Bolsonaro truck drivers blockaded federal highways countrywide for three days to denounce the Supreme Court and demand that Bolsonaro lead a military coup, causing significant transportation-related disruptions across several sectors. Bolsonaro was forced to request that the truckers call off the strike due to the economic impact.


WHAT WILL HAPPEN IN THE ELECTIONS?
Various polls indicate that former president Luiz Inácio 'Lula' da Silva, recently released from prison by a Supreme Court decision annulling his 2018 conviction for corruption, has remained the presidential favourite for some months. However, two right-wing parties have recently merged to become the country's largest political party, with the intent to put forward an alternative candidate to Bolsonaro in the upcoming elections. This could lead to a further drop in votes for Bolsonaro, as the conservative electorate switch allegiance to a less controversial candidate. At this stage, Bolsonaro appears to lack the support to win the election.
Bolsonaro has claimed that he will not accept the election results if he does not win, saying that 'only God' can remove him from power. The military's commander has officially rejected that it would support a coup, although some concern remains over the police, under control of state governors who owe their positions to Bolsonaro. But the president's radical politics has largely isolated him and, should he lose, he will likely lack institutional and military support to order a coup, as many of his allies – including in the security establishment – will switch their support to the incoming administration. Rather, Bolsonaro's continuous efforts to delegitimise the electronic voting system will help to create a basis for debunking the election results, and he may initially seek legal methods to have the results invalidated or recounted. He will also likely mobilise his supporters, such as unions and agribusiness, to protest with the aim of disrupting industry in order to pressure decision makers like the Electoral Court to nullify the results. This may drive a turbulent period of unrest similar to the US's post-election pro-Trump demonstrations until the new president takes office.