The recent kidnapping of four researchers conducting archaeological fieldwork in Papua New Guinea highlights the ongoing security challenges in the country, writes Saif Islam.
---
On 20 February, an armed criminal group kidnapped four researchers, including a New Zealand national, Professor Bryce Barker, in the remote village of Fogoma'iu in Mount Bosavi region. They were conducting archaeological fieldwork in the area, which lies near the boundary of Southern Highlands and Hela provinces, where security presence is minimal. According to local authorities, the kidnappers belong to a criminal group mainly involved in drugs and weapons trafficking across the country. A senior official said the group was recently involved in an altercation with security personnel at a logging site that left two members injured. In order to extract compensation for the injuries from the government or the logging company, they kidnapped the four researchers and demanded a ransom of USD one million. After several rounds of negotiations between government representatives and the kidnappers, the latter agreed to accept a ransom of USD 70,000. One hostage was released on 22 February, and the others including Professor Barker followed on 26 February, following the ransom payment.
The incident is indicative of Papua New Guinea's precarious security environment, which is characterised by a high crime rate, political instability, ethnic tensions, and relatively weak policing capabilities, among other challenges. In the capital city of Port Moresby, Lae and other urban centres, organised and semi-organised criminal groups motivated by financial gain pose the primary threat of kidnapping. However, express kidnappings appear to be more common than traditional kidnap for ransom incidents. These groups mainly target locals, although foreigners may also be targeted if the opportunity arises. For example, in March 2022, a Filipino national was kidnapped and killed in the capital Port Moresby in what was likely an expressing kidnapping or armed robbery incident.
Outside of Port Moresby, especially in the Highlands region, the threat landscape is considerably more complex. Occasional tribal conflict, land and natural resource-related disputes, weak governance, and challenging all influence the security environment. Kidnappings are carried out by organised criminal groups as well as opportunistic criminals and disgruntled local villagers with grievances against the government or companies involved in oil and gas, mining or logging operations. According to S-RM sources, there is a precedent for villagers to detain employees of foreign companies over localised grievances, such as unemployment, although hostages are rarely harmed. Incidents also go unreported due to limited media presence in remote regions, and employers or victims' family members seeking to avoid publicity as they try to secure the hostages' safe release. Most victims are locals, although there have been several incidents of foreign nationals
being kidnapped over the past decade. In April 2020, for example, armed men kidnapped six Asian loggers in Western Province, who were released following a ransom payment of USD 85,000. In another incident in 2014, three workers of an international oil and gas company were kidnapped in Southern Highlands Province; they were released unharmed.
Site of February kidnappings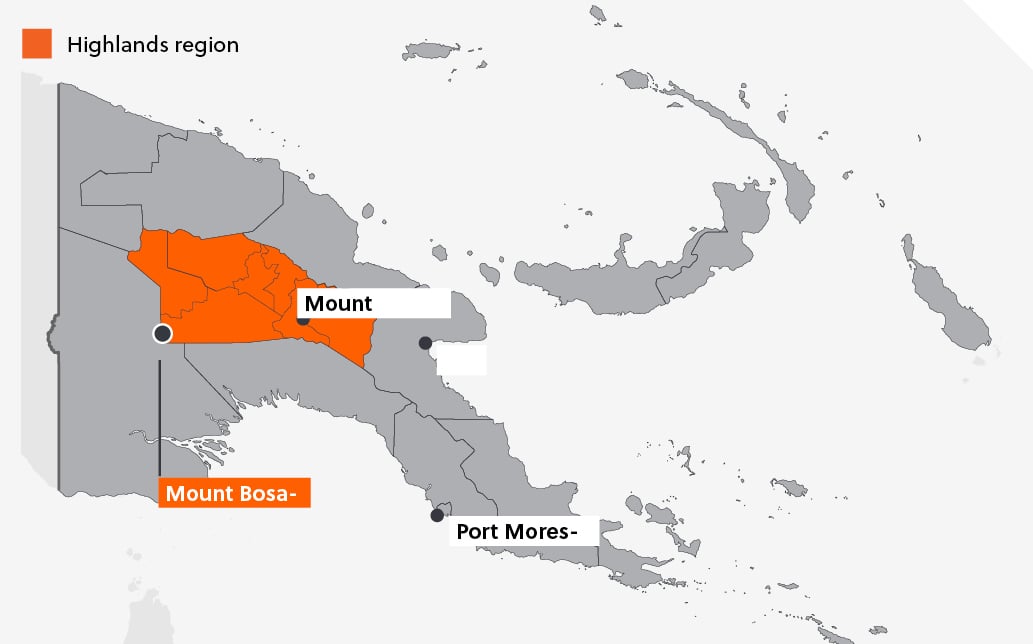 While hostages are not physically harmed in most cases, the Highlands and other remote areas pose a host of logistical challenges to local authorities' attempt to secure their release, giving kidnappers certain advantages. These regions have limited physical or communication infrastructure, making it difficult to locate the victims or communicate with their captors. The four researchers, for example, were kidnapped in an area with no phone coverage. Professor Barker initially relayed the kidnappers' demands via his satellite phone, but after the phone's battery died, communication became difficult. Negotiations became a prolonged affair as they had to be conducted through third parties. The vast and challenging terrain also makes it difficult for the authorities to conduct successful search and rescue operations, while aiding kidnappers' ability to hide the victims, move them to different places, and evade interception. For instance, after the kidnappers threatened to harm the researchers if they were approached by anyone in uniform, the government tried to charter a helicopter to access the area. However, it could not find a pilot willing to fly to a region that is widely considered to be highly dangerous. These challenges contribute to significant uncertainty regarding the extraction of hostages from
such regions.
Due to the formidable security challenges, particularly in remote areas outside of Port Moresby, staff of foreign companies, tourists and other travellers should avoid non-essential travel to high-risk areas. In the event of travel, monitoring local security trends, seeking guidance from local authorities, and accessing the services of professional risk management companies, will be crucial in mitigating the risk of kidnapping and other perils.