Following the recent kidnapping of two foreign nationals in a militant-controlled area of Colombia,

Erin Drake

considers whether such cases remain isolated, or if the pandemic, coupled with ongoing insecurity, will create the opportunities for renewed kidnapping activity in 2021.
On 30 January, an unidentified armed group kidnapped two tourists – an Italian- and Canadian-Colombian – travelling through the Belalcazar indigenous reservation in the Páez area of Cauca Department in western Colombia. No group claimed responsibility for the incident, but far-left militant groups like the Ejército de Liberación Nacional (ELN), and dissident members of the now-disbanded Fuerzas Armadas Revolucionarias de Colombia (FARC), are known to operate in the area. While these groups previously engaged in frequent kidnappings, incidents have declined since FARC signed a comprehensive peace deal with the government in 2016. Although such cases – including kidnappings of foreign nationals – are now only occasionally reported, a recent uptick in militant activity over the Covid-19 lockdown period could result in more frequent kidnappings.
WHO KIDNAPS WHOM, WHY, AND WHERE?
Both FARC and ELN militants have historically carried out kidnappings for ideological and financial reasons in their area of operations, including the departments of Cauca, Antioquia, Arauca, Nariño, Norte de Santander and Putumayo. Their motivations have included kidnappings for political leverage or the release of detained group members, as well as to finance their ongoing insurgency through ransom demands. Although some kidnappings – such as those targeting senior government officials – have been premeditated, most reported kidnappings by militant groups are opportunistic, particularly those involving foreign nationals transiting through militant operational areas.
Criminal groups spanning the Colombia-Venezuela border have also occasionally staged financially-motivated kidnappings of local nationals and travellers. Such groups often pretend to be militants to increase the legitimacy of their threat. In 2013, for example, a criminal group identifying themselves as FARC members kidnapped two Spanish tourists near the popular Cabo de la Vela tourist spot, and were paid a USD 667,000 ransom for the victims' release. FARC denied any involvement, and authorities later arrested the two individuals who collected the ransom – a Syrian and Spanish national – in Spain. Such groups will continue to stage kidnappings for ransom, particularly in remote border areas with a limited security presence.
"A recent uptick in militant activity over the Covid-19 lockdown period could result in more frequent kidnappings."
PEACE AGREEMENT VS PANDEMIC
During the Covid-19 lockdown, FARC, ELN and organised criminal groups have expanded their areas of influence significantly, as security forces' efforts focused increasingly on relief efforts and ensuring the delivery of basic goods and services. The government's inability to adequately provide such basic goods and services to remote, rural areas of the country further enabled FARC and ELN to consolidate control over their areas of operation, through enforcing their own arbitrary curfews and other measures, and acting as a de facto local government. This has mostly been achieved through violence, as evidenced by the highest number of militant-related killings since the 2016 peace agreement.
A more lax security environment has further enabled these groups to intensify their usual range of activities, including drug production, and drug and weapons trafficking. This has driven increased competition for territory among rival groups, which has contributed to an uptick in violent clashes, and has prompted significant internal displacement.
The UN Peace Commission in Colombia defines 'massacres' as three or more fatalities in a single incident. However, while other militant activities have continued, militant-related kidnappings have, so far, remained isolated. According to government figures, overall kidnappings in the country even decreased by four percent in 2020, suggesting that the lockdown further limited the opportunity for such attacks to take place due to restrictions on travel. Nevertheless, the recent kidnapping of two tourists highlights that groups retain an intent to stage such incidents. In a similar recent incident in March 2020, a Brazilian and a Swiss national who were waylaid by their GPS were kidnapped by two armed FARC members on motorcycles, while they travelled through the Cauca Department. They were rescued a month later, unharmed.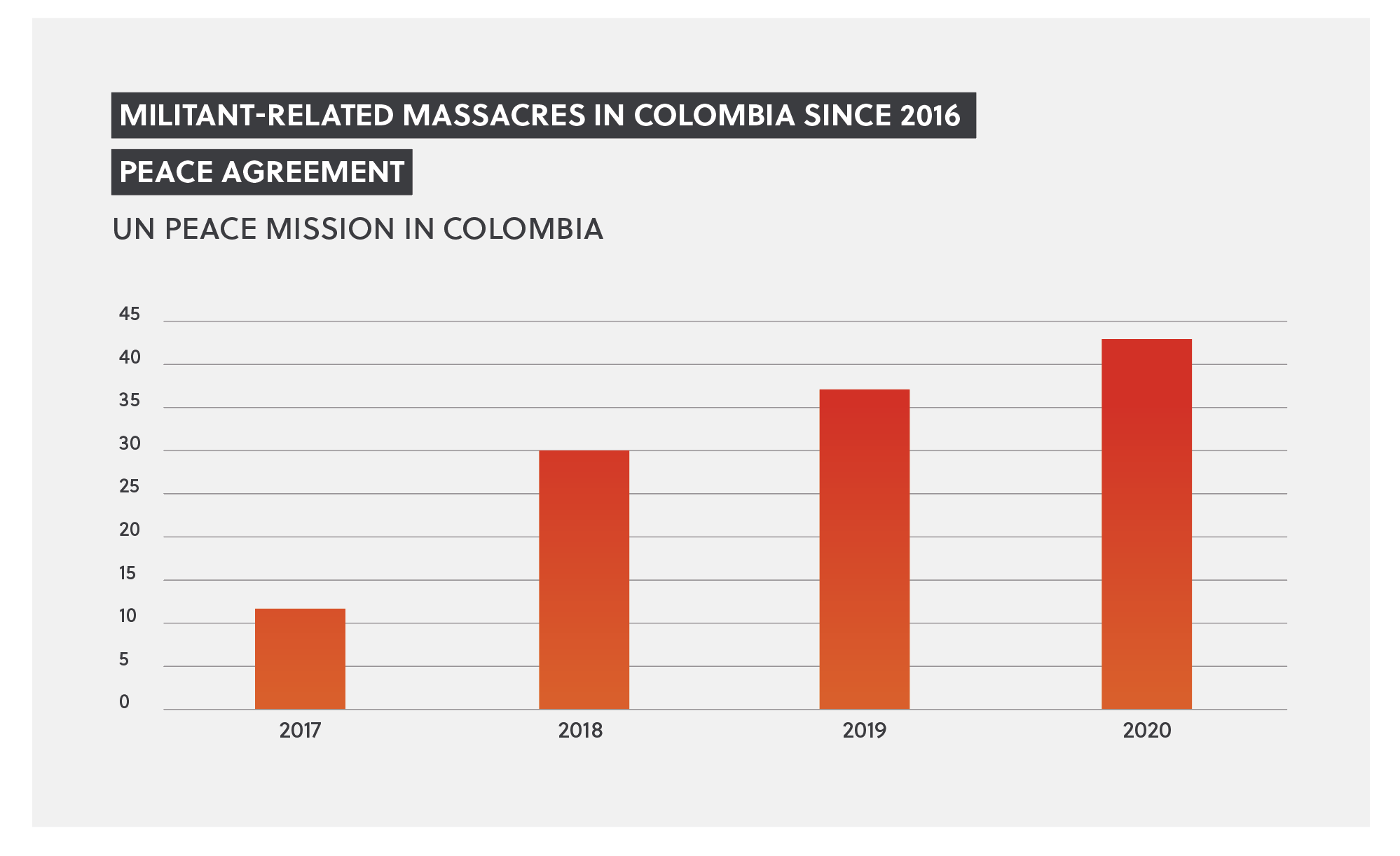 ISOLATED OCCURENCES, OR RE-EMERGING THREAT?
While the kidnappings are concerning, they do not necessarily suggest an imminent resurgence in kidnapping activity. FARC, ELN and organised criminal groups remain largely focused on establishing their territorial control over illegal mining operations, illicit crop plantations and lucrative smuggling networks. They will likely intensify such activities as they seek to maintain these primary sources of revenue, and their grip on territory consolidated during lockdown. Kidnappings will therefore remain a supplementary and mostly opportunistic means of financial gain. As such, there is unlikely to be a significant increase in kidnappings in the coming months, including incidents targeting travellers.
Ultimately, kidnappings (particularly of foreign nationals) remain comparatively high-risk endeavours for militant groups. Foreign victims tend to result in more scrutiny, media attention and security operations. Furthermore, the overhead costs of keeping a hostage, such providing food and medical supplies, further limit their intent to carry out a longer-term kidnapping for ransom. Victims also require frequent relocation, which risks exposure or attracting the attention of local security forces or potential witnesses. However, when the opportunity arises, some groups will likely continue to leverage this, particularly if the victim lacks a security escort or is in a remote location. Nevertheless, there is little evidence to suggest a renewed intent to launch a kidnap campaign. As such, foreign nationals remain high-value – but ultimately opportunistic – targets.