The GNA's recent successes on the battlefield represent a considerable setback for the LNA at present, but are highly unlikely to end the war, writes Saif Islam.
"Unless there is strong and sustained international intervention that tips the balance heavily towards one side, or the warring parties are fatigued enough to explore some sort of reconciliation, a breakthrough is difficult to imagine in the near future."
On 4 April, Khalifa Haftar's Libyan National Army (LNA) launched a military offensive to seize Tripoli, the country's capital, from the UN-backed Government of National Accord (GNA). The fighting, which expanded to wider western Libya, has killed more than 2,300 people, and injured 10,000 others. In March, despite increased international calls for a humanitarian ceasefire amid the COVID-19 outbreak, the LNA – determined to bring Tripoli and ultimately the entire country under its control – continued to attack the capital. On 25 March, the GNA, with increased Turkish military support, launched a counter-offensive, achieving a string of victories that surprised many commentators. The GNA had found itself reeling under LNA pressure on several occasions over the past year. As such, these latest victories have been a major morale booster for the UN-backed government. However, it is highly unlikely to lead to a swift victory and end the ongoing political deadlock.
The GNA's recent gains
In April, the GNA quickly recaptured multiple western Libyan towns – such as Al Ajaylat, Al Jumayl, Sabratha and Sorman – before pushing towards the LNA's Al Watiya and Tarhouna bases, located south-west and south-east of Tripoli respectively. They killed dozens of LNA fighters and arrested hundreds of others. These developments represent a major upward shift in the GNA's capability, thanks to growing Turkish support since January. Turkish drones, air defence systems, signal jamming equipment, military advisors, and thousands of Turkish-sponsored Syrian mercenaries – occasionally aided by warships and fighter jets – are helping the GNA to turn the tide. Turkey has been using a strategy similar to the one it employed in Syria in February-March, when its combat drones carried out numerous strikes on enemy personnel, command centres, high-impact weapon systems, and supply lines. The Turkish intervention has, for the time being, given the GNA air supremacy in western Libya, which is crucial for maintaining territorial control.
The LNA's inevitable response
Despite recent successes, GNA officials' declarations that they can oust the LNA from western Libya should be treated with caution. There have been many ebbs and flows since the start of this conflict. There remains uncertainty regarding whether the GNA can hold onto its gains, as well as capture Al Watiya and Tarhouna. In response to the latest setbacks, the LNA has intensified its shelling of Tripoli. The LNA are also reportedly sending reinforcements to western Libya from other parts of the country. Most importantly, the LNA's international backers – especially the United Arab Emirates (UAE) – are loathe to concede grounds to Turkey, a major geopolitical rival. They have invested too much in this conflict to backtrack, especially when Haftar is still at Tripoli's doorstep. In order to counter the GNA's new-found firepower, the UAE, Russia and Egypt will probably start sending more advanced weapons to the LNA, dragging the conflict on even further.
Outlook
The warring sides continue to ignore international calls for a ceasefire due to the COVID-19 outbreak and the Muslim holy month of Ramadan, which began on 24 April. The GNA seems determined to build on current momentum and capture Al Watiya and Tarhouna, which would be a major blow to Haftar and the LNA in western Libya. However, the GNA has not demonstrated the intent or capability to challenge the LNA's territorial stronghold in eastern and southern Libya. Thus, even if the LNA is ousted from western Libya – which is still far from certain – it will remain in control of most of the country, including strategic oil and gas assets, and continue to contest the GNA's authority.
Thus far, despite paying lip service to the idea of peace and democratic elections, Haftar has shown no real commitment to any negotiated political settlement, pushing for a military solution instead. While the GNA has historically been more open to negotiating with Haftar, its broader camp also has many vehemently anti-Haftar factions. Since Haftar launched the Tripoli offensive last April, their refusal to sue for peace with Haftar only grew louder. This political divide is exacerbated by some powerful countries – in clear violation of UN embargoes – arming the two sides to serve their own foreign policy interests, while other countries are waiting patiently to see who emerges victorious. This further tarnishes the credibility of international mediation efforts that have consistently failed over the past three years.
Unless there is strong and sustained international intervention that tips the balance heavily towards one side, or the warring parties are fatigued enough to explore some sort of reconciliation, a breakthrough is difficult to imagine in the near future. The status quo will not only result in more civilian casualties, but will also continue to delay much-needed foreign investment and economic reconstruction in the country. This, ultimately, will worsen Libya's disintegration.
Territorial control as of 30 April 2020: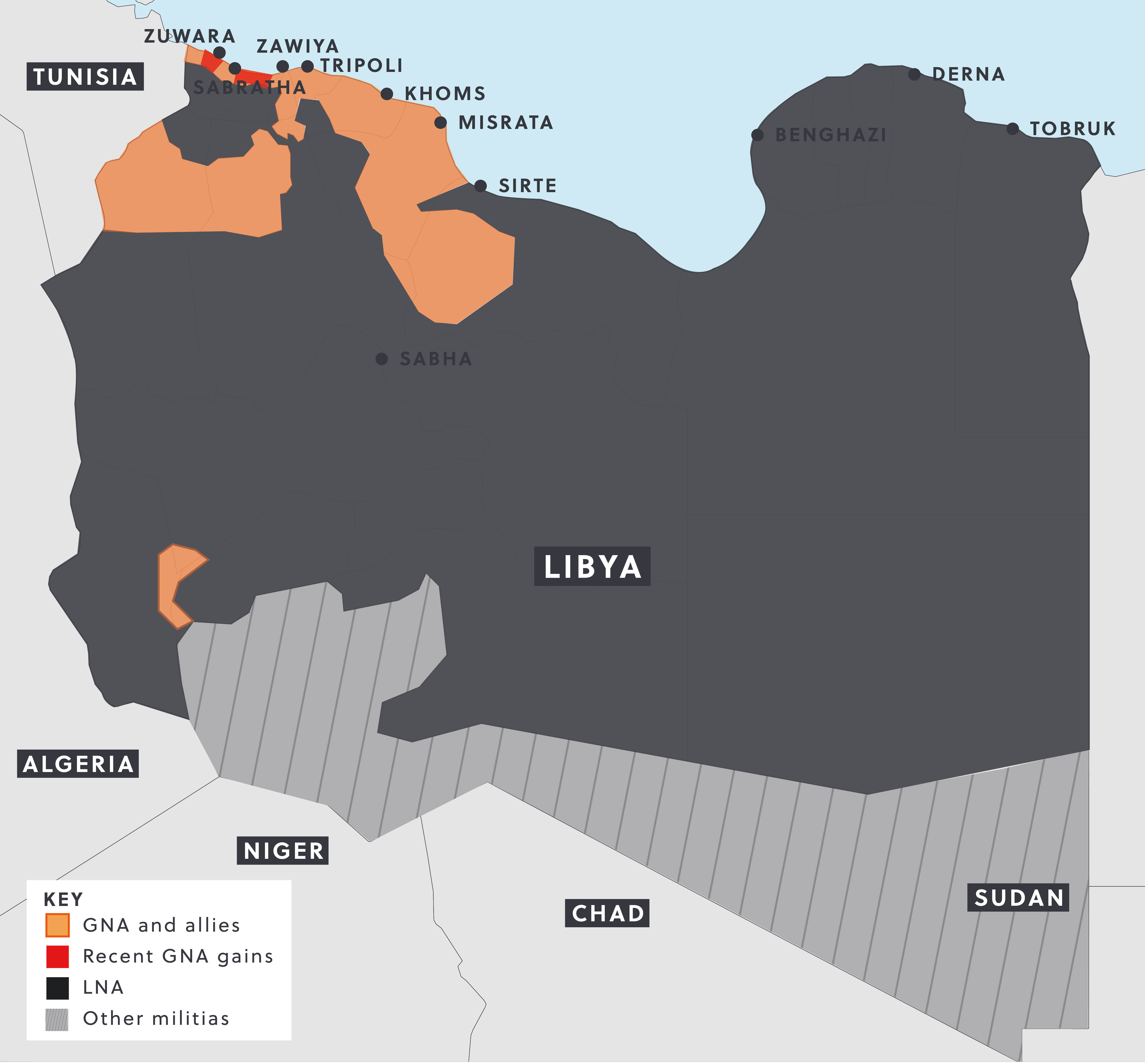 The war's impact on the economy
The war is having a devastating impact on Libya's fragile economy, which is exacerbated by the global COVID-19-induced recession. Tripoli-based state institutions have been unable to focus on economic reforms and reconstruction, although these entities are also plagued by corruption. This political instability and insecurity continues to deter the return of foreign investors. Oil production and exports – the backbone of the economy – have also been directly affected by the conflict. In mid-January 2020, for example, LNA-affiliated tribes blocked all oilfields and export terminals in eastern Libya, cutting the country's oil production by 800,000 million barrels per day, which amounted to approximately USD 4 billion in lost export revenues. As such, almost 30 percent of Libya's six million people who rely on state salaries have not been paid for months.