As ongoing government efforts double down on identifying, monitoring and preventing violent far-right attacks,

ERIN DRAKE considers

whether such groups will look for alternative ways – like terrorist-type attacks – to air their grievances.
Since far-right protesters stormed the US Capitol in Washington, DC, on 6 January, the subsequent security crackdown has involved intensified efforts by security agencies to identify and arrest those involved in the riot, and improve oversight over groups and individuals engaging with extremist discourse. Ongoing efforts to limit opportunities among extremist groups to engage in further demonstrations is likely a major contributing factor to the recent slow-down in far-right activity since January. However, while large, riotous rallies have died down, isolated cases of terrorist-type incidents indicate that there are some radicalised individuals or factions who still intend to carry out clandestine attacks against government, security and occasional commercial targets. As ideological and socio-political views remain polarised in the aftermath of the Trump presidency, more extremist actors may begin to view such tactics as a viable alternative to protesting.
EXTREMIST MOVEMENTS IN THE US
For the most part, activities by far-right groups manifest as demonstrations and online harassment campaigns against government officials, public activists and organisations who contradict their beliefs. Among far-right groups, grievances mostly relate to perceived infringements on their beliefs, constitutional rights and ideological sentiments, which include gun ownership and property rights, and since 2016, support for former president Donald Trump. Amid the Covid-19 pandemic, these grievances have extended to disapproval of restrictions on movement during state-imposed lockdowns. Rival demonstrations and clashes between far-right and far-left groups also became particularly prevalent during the Trump presidency, amid widespread Black Lives Matter protests in 2020, and during the November election campaign. The subsequent storming of the Capitol following Biden's election victory signalled the peak of violent far-right demonstrations, and the FBI director even called it an act of 'domestic terrorism.'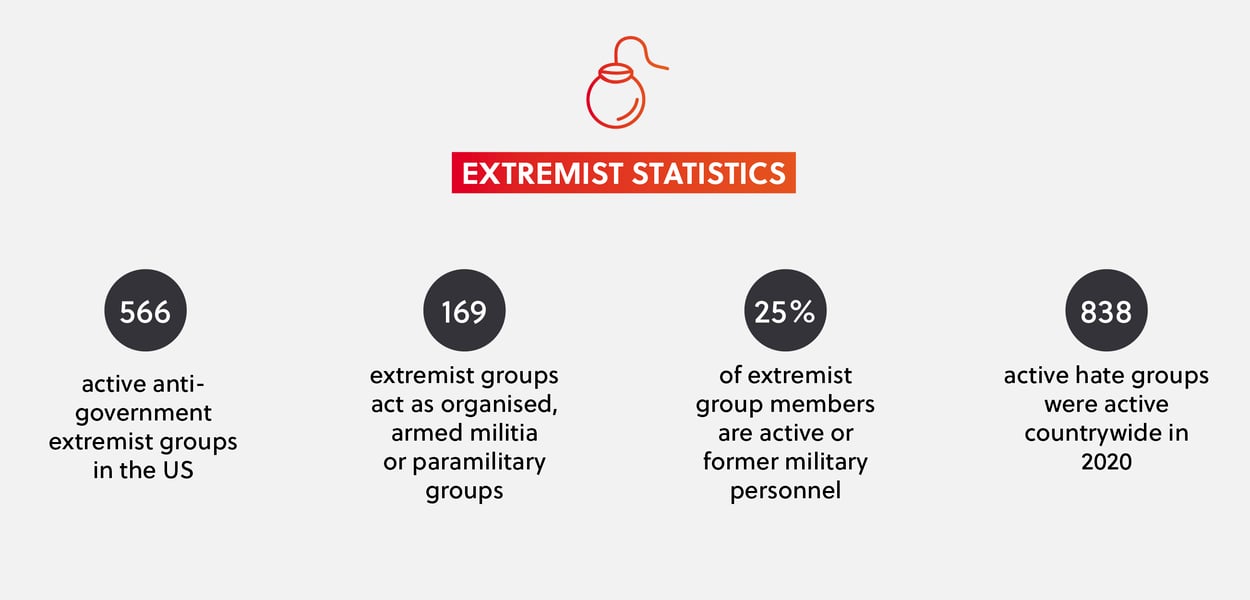 ISOLATED EXTREMISM
Even though far-right groups mainly stage rallies and demonstrations, some members or sympathisers, often acting alone, have resorted to outright violence. In the majority of cases, violent attacks were not specifically orchestrated by these groups, but were largely inspired by their general ideology. On 25 December 2020, for example, an individual known for his involvement in far-right conspiracy theories involving QAnon, 5G cellular networks and the 2020 elections detonated his explosive-packed vehicle near a global telecommunications company in downtown Nashville, resulting in widespread disruptions to internet and telephone services. In another incident on the evening of 5 January – the night preceding the Capitol riot – an unidentified perpetrator planted two pipe bombs outside the headquarters of the Republican and Democrat national committees, both located near the State Capitol in Washington. Police found both bombs, which did not detonate. During subsequent investigations, the FBI did not identify motives in these cases to suggest that the incidents were specifically linked to a broader plan by any extremist group to stage further attacks.
"

Isolated cases of terrorist-type incidents indicate that there are some radicalised individuals or factions who still intend to carry out clandestine attacks against government, security and occasional commercial targets.

"
Infrequently, some far-right groups have planned or carried out targeted attacks, particularly against officials. For example, on 7 October 2020, the FBI thwarted a kidnapping attempt targeting Michigan Governor Gretchen Whitmer. They arrested six people linked to the 'Wolverine Watchmen,' a newly-formed far-right militia group, and charged them with plotting to abduct and hold a 'treason trial' for the Democratic governor due to her strict Covid-19 measures. They had reportedly spent months planning the abduction, including monitoring the governor's home. They had allegedly plotted to do the same to the Virginia governor.
ENHANCED COUNTER-EXTREMISM
Despite having the capabilities – and some motivation – to carry out terrorist attacks, groups and lone actors are largely prevented from doing so by ongoing counter-extremism initiatives. Although security and intelligence agencies have sought to thwart such activities for several years, in the aftermath of the Capitol Hill riot efforts to crack down on extremist groups will likely intensify. This will continue to act as a partial deterrent for extremism; for example, far-right group leaders cautioned members against participating in demonstrations around President Joe Biden's inauguration for fear of being charged under the domestic terrorism act. Such groups understand that their survivability and activities are dependent on their ability to continue as a legal organisation, with some members even running for local office.
Outlook
Far-right activity – like demonstrations and associated violent incidents – tends to spike when divisive political or social topics are prevalent in the media, online forums or around political campaigns.
These 'big issues' like Covid-19 lockdowns, the 2020 elections (which many far-right groups still consider fraudulent) and the Biden presidency will continue to act as a rallying point for extremism. However, they will mostly try to express their grievances by intensifying traditional activities like unruly protesting, and online harassment and conspiracy theorising, rather than collectively turning to terrorist-type attacks.
The far-right factions and sympathetic lone actors who may want to stage violent attacks will be even more constrained in the coming months under the Biden administration, as intelligence agencies up the ante on efforts to combat violent homegrown extremism post-Capitol Hill riots. We are likely to see far-right group leaders urging more caution and discouraging violent clandestine acts that can damage group reputations or recruitment drives. This will also probably prompt many groups to place a moratorium on potentially disruptive protests, as seen on 4 March when another police warning of an impending second attack on the capitol failed to materialise. However, while many groups will likely be on their best behaviour at least until the scrutiny has died down, isolated attacks may still slip through the cracks.
PROFILES OF PROMINENT EXTREMIST GROUPS
1. BOOGALOO
A far-right extremist movement that aims to overthrow the existing government through a civil war. Members were particularly active during the Trump administration, and ahead of President Biden's inauguration, during which they staged armed protests at several state capitols.


2. PROUD BOYS
A far-right extremist group that identifies as 'chauvinists' and white nationalists. Since the security crackdown following the Capitol Hill riot, the group has largely splintered, with many chapters rejecting the group's leader, Henry Tarrio, who was recently identified as a longtime FBI informant. Several members were also arrested for their involvement in the Capitol Hill riots. At least three chapters have now established independent groups.


3. OATH KEEPERS
A Nevada-based radicalised right-wing group that operates countrywide, and aims to defend their interpretation of the constitution. The group has between 1,000 to 3,000 members. Group members were present at a number of violent protests at state capitols in 2020 and 2021, including on 6 January.


4. THREE PERCENTERS
A far-right extremist group based in Idaho but operational countrywide. The group has provided security services for various right-wing protests and movements. The group does not define itself as 'anti-government,' but has engaged in armed protests against government policies and officials, particularly during the Covid-19 pandemic and ahead of the November 2020 elections. They adopt a strongly pro-gun stance and seek to protect the constitutional right to keep and bear arms.


5. WOLVERINE WATCHMEN
A recently formed far-right group based in Michigan, that was created largely in response to Michigan's strict lockdown following the outbreak of Covid-19.