For this month's Red Flag Bulletin, beyond our regular round-up of financial crime, corruption, sanctions, and integrity issues worldwide, we pick up on some of the ways in which judicial, regulatory, and anti-money laundering authorities around the world have been responding to COVID-19.
While almost all authorities will be wrestling with the immediate challenges to maintaining 'business as usual', others have made potentially significant moves to extend powers in ways that might strengthen their hand against political opponents in contests for power over the longer term.
Meanwhile, with headlines preoccupied with covering the pandemic, our regional teams continue to monitor those corruption and integrity issues which are likely receiving less coverage than they would have under regular circumstances.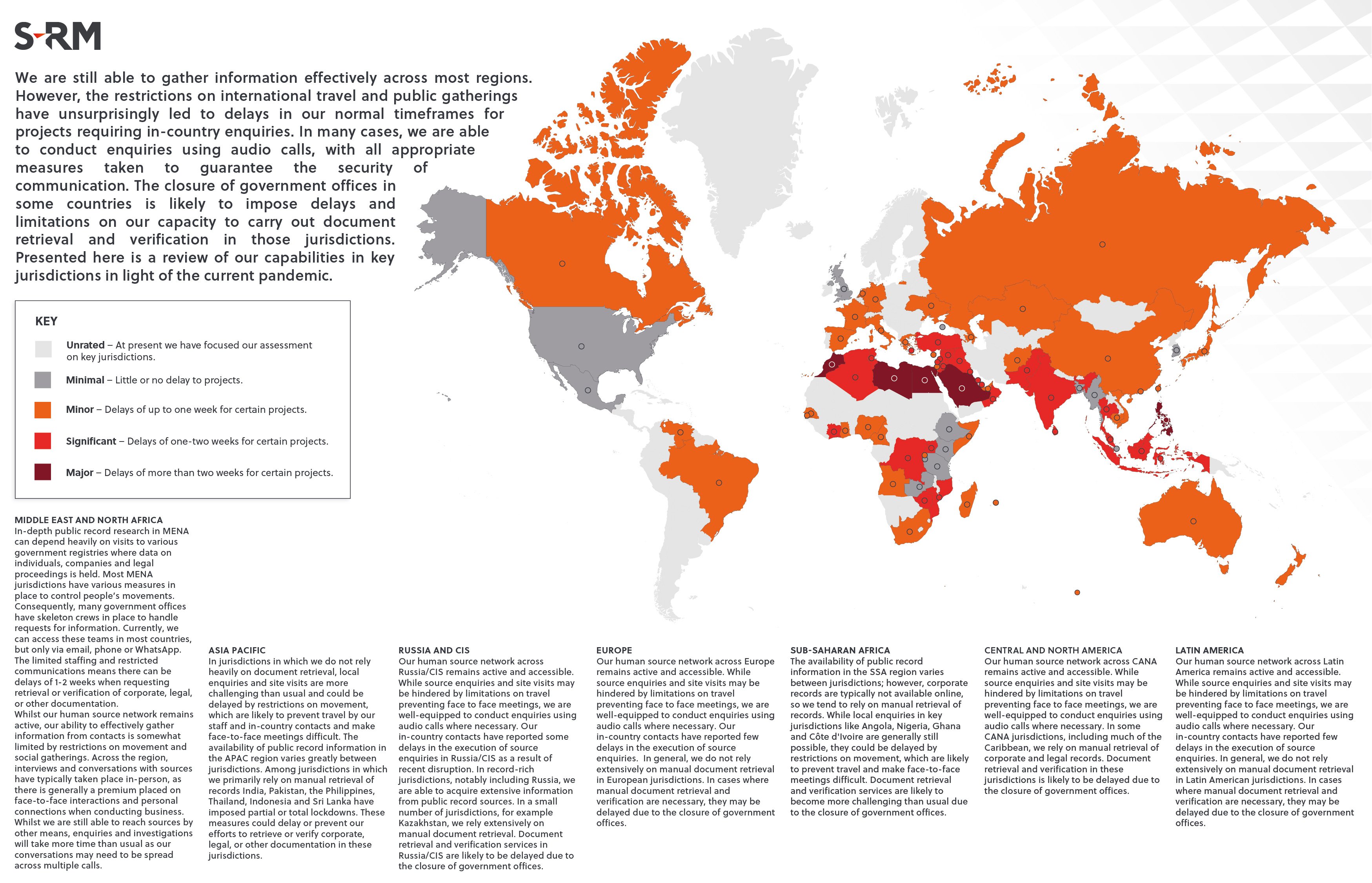 Learn more about S-RM's ability to conduct in-country enquiries during the pandemic through our updated regional intelligence reach map.
Europe & North America
[COVID-19]

Sweden, UK, Switzerland: A regional delay in corruption proceedings
COVID-19 has led to a series of delayed corruption proceedings on the continent. On 25 March, Finansinspektionen, Sweden's financial regulator, postponed its ongoing investigation into money laundering at one of the country's largest banks, SEB. Conclusion of the investigation, originally scheduled for April, is now planned for June.
Southwark Crown Court took similar action in respect of the UK Serious Fraud Office's ongoing case against three Unaoil executives for their alleged role in paying bribes to secure oil pipeline contracts in Iraq, twice delaying the trial, now postponed indefinitely.
While the Court of Arbitration for Sport in Lausanne, Switzerland, is operating hearings via video conference, it has nonetheless indefinitely delayed the appeal of Musa Bility, former president of the Liberian Football Association, against FIFA's decision in July 2019 to suspend him from all football related activity for ten years. Bility's alleged offence included the misappropriation of FIFA funds allocated to help combat the spread of Ebola in West Africa in 2014.
[COVID-19]
Hungary: Prime Minister Viktor Orban given extended powers amid "emergency measures"
On 30 March, Hungary's parliament enacted a law allowing Prime Minister Viktor Orban to bypass parliament and rule by decree indefinitely. Jail terms of up to five years were also introduced for anyone spreading "fake news" about COVID-19 or criticising the state's countermeasures.
Hungary's media environment and economy are already dominated by close associates of Orban and his Fidesz Party, which holds a two-thirds majority in parliament. Research by NGOs has found evidence of disproportionate allocation of overpriced state and EU-funded contracts to close friends and affiliates of Viktor Orban. In November 2019 Hungary accepted a penalty of HUF 500 billion (GBP 1.2 billion) for poorly managing funds received from the EU.
On 1 April thirteen EU countries issued a joint statement communicating that they are "deeply concerned" about the risk of violations of the rule of law, democracy and fundamental rights arising from "certain emergency measures." While other European nations at the pandemic's epicentre have also entered constitutional states of emergency - such as Italy, Spain, and France – their measures contain greater clarity on time frames and the protection of fundamental rights.
[COVID-19]
Canada: FINTRAC announces revised expectations for money laundering compliance at financial institutions
In March, the Financial Transactions and Reports Analysis Centre of Canada (FINTRAC) announced revised expectations for money laundering compliance at financial institutions in recognition of their reduced capacity to meet reporting obligations during the COVID-19 pandemic. FINTRAC has asked regulated entities to prioritise the most urgent suspicious transaction reports (STRs). FINTRAC will reprioritise its own supervisory work, effectively suspending new regulatory examinations and triaging less urgent STRs. While Canadian financial institutions will likely welcome FINTRAC taking a proportionate approach to regulation in the short term, the guidance is not a resetting of their obligations. Institutions would be well-advised to document the reasons underlying any procedural changes to their compliance regimes during the pandemic, to schedule periodic reviews for whether the changes remain proportionate, and to consider appropriate risk mitigation measures for the duration of any changes.
Germany, Austria, Serbia, Bulgaria: Police arrest perpetrators of trading platform fraud
Police agencies in Germany, Austria, Serbia and Bulgaria have carried out a series of coordinated raids as part of a joint investigation into two organised criminal groups operating fraudulent financial trading platforms. The authorities confiscated EUR 2.5 million and arrested five suspects in Serbia and four in Bulgaria, all of whom allegedly posed as agents or brokers. Attracted by advertising banners and email offers, victims paid a EUR 250 fee to register with the unlicensed platforms. Many were contacted directly by the perpetrators and offered more bogus products, including binary options and contracts-for-difference. Austrian police believe that the victims may have lost around EUR 80 million in total.
Asia Pacific
[COVID-19]
Pakistan: Hovering between the FATF's grey- and blacklists
The Pakistani government has imposed a lockdown on various parts of the country as a result of COVID-19. The re-allocation of resources to fight the pandemic reduces the country's chances of meeting the conditions currently attached to it seeking to be removed from the Financial Action Task Force's (FATF) grey list. Pakistan has been on the grey list since June 2018 owing to "strategic deficiencies" in its counter terrorist financing regime. On 21 February 2020, the FATF directed Pakistan to complete implementation of a 27-point action plan, or risk being placed on the even more severe blacklist at FATF's next plenary meeting in June. That the FATF is willing to take such action during a global health emergency is evidenced by the fact that it added Iran, one of the countries worst hit by the pandemic, to the blacklist on the same day. Despite its inclusion on the FATF grey list, Pakistan nonetheless secured USD 200 million in fast-track funding from the World Bank as part of its initial USD 1.9 billion package to help developing countries fight the pandemic, announced on 2 April.
On 23 March, Pakistani officials formally requested that the FATF reconsider its position in recognition of the health emergency. Two days later, the money laundering trial of former president Asif Ali Zardari (2008 to 2013) was delayed until 27 April due to the pandemic. Later the same week, the Islamabad High Court released from prison 24 suspects on trial for corruption, including Zardari's reported close aide Hussain Lawai, citing the risk to their lives if they remained in jail awaiting trial. The release took place despite anti-corruption authorities' fears that the suspects might tamper with evidence and prejudice the eventual trials.
Pakistan: Media executive arrested for corruption in alleged attack on press freedom
Pakistan's National Accountability Bureau (NAB) arrested Mir Shakil-ur-Rehman, the editor-in-chief of the Jang Media Group, on corruption charges. The Jang Media Group is one of the largest independent media companies in Pakistan. It owns the country's largest TV news channel and several mainstream newspapers. The charges against Rehman relate to land purchases dating back to 1984. His arrest has been widely criticised as a politically motivated attack on press freedom. Multiple media associations, human rights groups and opposition parties have expressed concerns over the arrest.
China: Ex-CITIC boss expelled from Communist Party for corruption
The Central Commission for Discipline Inspection (CCDI), the Chinese Communist Party's anti-corruption body, announced the expulsion of Sun Deshun, the former president of state-owned, Hong Kong-listed investment company CITIC. According to the announcement, Sun took a "huge amount" of bribes during his tenure at CITIC, where he abused his power for the benefit of friends and relatives. As well as expelling him from the party, the CCDI announced that Sun would be stripped of any benefits and illegal income, and his case was referred for prosecution. Sun was placed under investigation in September, having resigned from CITIC early last year. Under his leadership, CITIC loaned large sums to distressed private companies including HNA Group, which was recently taken over by the Chinese government in an effort to resolve its debt issues. CITIC's lending to HNA was reportedly investigated by Hong Kong regulators last year.
China, US: Two charged with laundering cryptocurrency for North Korea
A US court charged two Chinese nationals with laundering more than USD 100 million in cryptocurrency on behalf of North Korea. According to the indictment, the funds were stolen from cryptocurrency exchanges by North Korean hackers between December 2017 and April 2019, and laundered through hundreds of automated transactions designed to prevent police from tracing them. Those charged allegedly laundered the funds by converting the virtual currency into fiat currency, and purchasing iTunes gift cards. At least some of the laundered funds were allegedly used to bankroll further North Korean cyber-attacks.
India: Top executives called to give evidence in money laundering investigation
The Enforcement Directorate (ED), India's economic crime agency, summoned the heads of all major companies which had received loans from Yes Bank to give evidence in a money laundering investigation into the bank's founder and CEO Rana Kapoor. Kapoor is being held in custody on suspicion of laundering criminal proceeds worth INR 43 billion (USD 565 million). He is alleged to have received kickbacks for extending loans to distressed companies, paid into shell companies controlled by Kapoor's family. Among those called to testify before the ED was high profile entrepreneur Anil Ambani, whose now-bankrupt companies were among Yes Bank's biggest borrowers. As well as the ED, the Central Bureau of Investigation, India's central investigative agency, has filed separate fraud and conspiracy charges against Kapoor. Yes Bank's operations were placed under moratorium between 5 and 18 March, and it has since resumed trading.
Russia & CIS
[COVID-19]
Kazakhstan: Government accused of using emergency measures to make politically motivated arrests
On 20 April, Kazakh human rights activists publicly denounced their government's arrest of three government critics, on changes of spreading "fake news about COVID-19". Since the declaration of a state of emergency on 15 March, Kazakh authorities have been accused of using lockdown measures as an excuse to arrest anti-corruption activists. Activists have criticised the state's COVID-19 "information monopoly" as an impediment to accurate reporting on corruption and abuses of office during the pandemic, including the alleged selective-enforcement of border checkpoints. For example, activists have alleged that they have encountered inspectors using ordinary thermometers instead of thermal imagers at checkpoints, prompting questions about the ultimate allocation of COVID-19 relief funds. On 29 March, Kazakhstan unveiled a USD 4.1 billion stimulus package as an emergency measure.
Kazakhstan, UK: Family of former president Nazarbayev is subject to new unexplained wealth order
The High Court in London has disclosed that three UK properties owned by the family of former Kazakh president Nursultan Nazarbayev have been subject to an Unexplained Wealth Order (UWO), an investigative tool compelling recipients to account for their source of wealth. The UK's National Crime Agency alleged that Nurali Aliyev, Nazarbayev's grandson, purchased the properties, worth GBP 80 million in total, with funds embezzled by his late father Rakhat Aliyev, a former senior Kazakh government official-turned-dissident who died awaiting trial for murder in 2015. Under a UWO, a UK court can seize the assets of a foreign official or their family if they do not respond to the order or cannot identify a legitimate source of the funds used to purchase them. The Nazarbayev family has denied all wrongdoing in the case, claiming that Dariga Nazarbayeva, the former president's daughter and current chairperson of the Kazakh senate, funded the purchase of the properties independently.
Armenia: Former defence minister charged with embezzlement
Armenian authorities have charged Seyran Ohanyan, the Armenian minister of defence from 2008 and 2016, with embezzling approximately USD 2 million from state property auctions. Ohanyan is also a defendant in an ongoing high profile case concerning his role in the suppression of anti-government protests in March 2008, which resulted in the deaths of 14 people. The government of prime minister Nikol Pashinyan, who came to power in 2018 following mass protests, has charged two former presidents and several of their allies with corruption and other crimes.
Middle East & North Africa
[COVID-19]
Israel: Court closures result in postponement of Prime Minister Benyamin Netanyahu's trial
On 15 March, Israeli Justice Minister Amir Ohana closed Israel's courts in response to the international COVID-19 outbreak for all but emergency cases, a move many Israeli commentators have called politically motivated. Ohana is a close ally of president Benyamin Netanyahu, who was set to face trial on 17 March over a number of bribery, fraud and breach of trust charges brought against him by the Israeli Attorney General. The trial has now been postponed until 24 May. Netanyahu's opponents in Israel now fear that with his trial postponed, and political focus moving to the needs of the new government, the chance to democratically oust Netanyahu may have passed. Itamar Grotto, the associate director-general of the Israeli Health Ministry stated that the ministry had not recommended the closure of the courts as they are considered "essential institutions".
Political commentators have accused Netanyahu of exploiting public anxiety around COVID-19 to prolong his political career. Netanyahu, who failed to form a government following elections on the 2 March, has pressured his chief rival Benny Gantz, into standing with him as part of a unity government during the crisis. Gantz's anti-corruption stance and promise to topple Netanyahu won him popularity in the March Israeli elections, in particular his drive to implement legislation that would prevent a politician under political indictment from forming a government. On 20 April Netanyahu and Gantz signed an agreement for the establishment of a national emergency government, that will include a rotation agreement for premiership between the two.
[COVID-19]
Saudi Arabia: New round of arrests amidst a reprieve from the limelight for MbS
In early March, three senior members of the Kingdom of Saudi Arabia (KSA) royal family were detained by authorities over an alleged plot to overthrow King Salman bin Abdulaziz and his son, Crown Prince Mohammed bin Salman (MbS). Those arrested were King Salman's sole surviving brother Prince Ahmed bin Abdulaziz, and his two nephews. They now face treason charges. It has been reported that MbS ordered the arrests after the trio tried to influence the allegiance council, an organisation which determines the Saudi line of succession. Prince Ahmed is believed to have voted against MbS's appointment as crown prince in 2017.
Later in the month, on 15 March 2020, officials arrested 298 business and political leaders as part of a so-called corruption probe. This wave of arrests bears a close resemblance to the 2017 mass arrest of 381 business leaders, religious scholars and royal family members, who were detained for several months and forced to hand over cash or equity in their companies. Both crackdowns, as well as the murder of journalist Jamal Khashoggi in October 2018, have been seen by many as a pre-emptive action by MbS to weaken his rivals and further consolidate his power. Yet despite their similarities, media scrutiny and publicity surrounding these most recent arrests have been significantly lower, as COVID-19 dominates headlines around the world. According to an analysis of Google internet searches around the world, recent searches for "Saudi Arabia arrests" amount to only 13 percent of volume figures in November 2017:
The timing of these arrests is also significant within the KSA. The price of oil, which accounts for 90 percent of KSA exports, has fallen to its lowest level since 2002, forcing the country to reduce its national budget by five percent. However, at the same time the government has announced a SAR 9 billion (USD 2.4 billion) stimulus package, to rescue businesses and cover wages lost in a national lockdown against COVID-19. With domestic media focusing on the economy and foreign media focusing on the virus, it seems MbS's latest wave of arrests has gone largely unchallenged.
Algeria: Former chief of police imprisoned for 15 years for corruption and money laundering
An Algerian court sentenced major general Abdelghani Hamel, the former director general of the Algerian police, to 15 years in prison on charges of corruption, money laundering, non-declaration of assets and other financial crimes. Fines were issued to Hamel, his wife and four children and their companies. Numerous Algerian businessmen and former politicians have faced similar charges since the resignation of former president Abdelaziz Bouteflika in 2019 amid widespread anti-corruption protests.
Sub-Saharan Africa
Zimbabwe: US imposes sanctions on security minister and ambassador over human rights abuses
The US government imposed sanctions on Owen Ncube, Zimbabwe's state security minister, and Anselem Sanyatwe, the country's ambassador to Tanzania, over human rights abuses. Ncube is accused of ordering the abduction and mistreatment of individuals belonging to a Zimbabwean opposition group, while Sanyatwe is accused of ordering an attack on protestors after Zimbabwe's general election in 2018. Sanyatwe was serving as the commander of the Zimbabwean National Army's Presidential Guard Brigade at the time. The sanctions restrict US nationals from business dealings with Ncube and Sanyatwe, and freeze any assets which come under US jurisdiction. In March, the US government extended sanctions on Zimbabwe for a further year, due to the failure of president Mnangagwa's regime to implement reforms to curb human rights abuses.